Now that we've got our image correctly sized, it's time to do some adjustments. The first, and most important, adjustment we make is our image levels.

You can think of levels as the amount of output at which the various pixels differ from each other. We want the parts of our scene containing our "whites" to be the whitest they can (without blowing out the highlights, or making them so light they lose any details in them) and the parts of our scenes containing our "blacks" to be the blackest they can be (without losing shadow details).

When most beginners think of such adjustments they think of Brightness and Contrast, and in a way they are right. But Brightness and Contrast adjust the levels overall in the image, and aren't very precise. To get more precision we use the Image/Adjust/Levels menu command.

Beginner's might be tempted to use Image/Adjust/Auto Levels, but don't you fall into this trap! Auto Levels is not only very sloppy, it does color adjustments that you might not want to do. Since you give up all control when you use Auto Levels, and since adjusting levels by hand is so very easy, there really isn't any excuse to not do it yourself.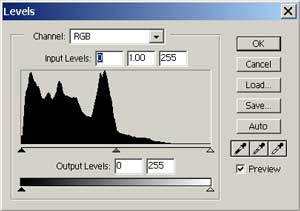 Bringing up the Levels dialog shows you a graph in the middle for Input levels, sliders at the bottom for Output levels, some eyedroppers at the right and the ability to save and load in saved level settings (only really useful if you have a set of images taken at identical times with the same subject -- a series of rapidly fired images, for example).
We're only going to concern ourselves with Input levels here. Output levels probably have their use, but I've never found one yet. You'll note we have three sliders at the bottom of the graph. The one at the right controls the highlights, the one at the left the shadow or blacks, and the one in the middle controls the midtones (duh).
Adjusting levels is easy and fun with the Preview button checked. Make sure you can see your image (move the Levels dialog if you need to) and examine your graph. If it's nice and even across the board and doesn't drop off dramatically at one end or the other, you don't need to do anything.
Chances are, however, that one end or the other will be very shallow, or non-existent. In our example above, it's the high end that's in sore need of fixing, as it's flatlined quite a bit. Drag the appropriate slider towards the middle and watch what happens to your image as you drag.
You want to drag your highlights slider towards the middle until you blow out the highlights (they lose detail). Then back it off slightly. You want to drag your lowlights towards the middle until you start to lose shadow detail. That's about all there is to it -- you can adjust your midtones if you want, but most of the time adjusting your highlights and lowlights will take care of the midtones properly. Here's how the above graph looked after we made the appropriate adjustments: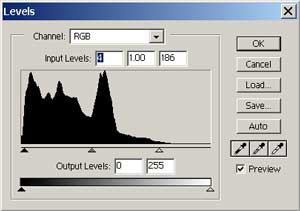 For a real eye opener after you've adjusted your levels properly uncheck the preview and note how much difference your adjustments have made.
This will bring snap and vitality to nearly all photographs. Every now and then you can't improve an image with levels -- consider yourself very lucky with that shot. Other times you may want a very flat shot and not want to juice up the levels much. It's your image -- do what you want.
There's another trick with levels you will want to be aware of. There are times that you don't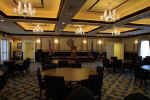 want to adjust the entire image. Here's a classic example -- an interior with light coming in from the outside as well as bright lights in the picture itself.
If we adjust the levels for the dark lower portion of the image we'll blow out both the ceiling lights as well as the outside door lighting. There are many ways of fixing this image -- we'll leave my favorite technique for last <g>.
One way we can fix this image is by putting a levels adjustment layer on the image.
Adjustment layers (Layer/New Adjustment Layer, then choose Levels) are initially put on the whole image. We adjust for the parts we want (in this case, the dark lower half), which will blow out the highlights as we expected. Now we want to selectively paint out the mask that is applied to the layer.
With the layer selected as our active layer, we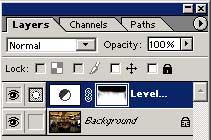 choose black for our paintbrush and paint the parts we don't want to be adjusted -- like with any mask black makes the mask transparent, white opaque, and levels of gray in between various degrees. After we've painted the parts we want we then apply Gaussian blur so our edges aren't distinct, and we end up with layers that look something like the dialog here.
This has the effect of applying the levels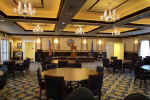 adjustment anywhere the mask is white, and holding it back where it is black. So now our picture is correctly adjusted as shown here.
Adjustment layers are good for more than just levels, of course. Levels, Hue/Saturation, Color Balance and a whole slew of other useful effects can be applied in this selective manner. Indeed, using this same general principle there is no Photoshop effect we can't apply selectively (but we'll cover that in another lesson).
In the Levels dialog you may have wondered what those eyedroppers are for. The theory is if you select the rightmost eyedropper you'll be able to set the white point for your image (and the leftmost selects the black point). You can try this if you'd like, just to see what happens, but in actuality if you really do select the brightest white point and the darkest black point you'll be doing exactly what Auto Levels does (and it ain't good).
However, there is a very good use for the middle eyedropper. The middle eyedropper will set your 50% gray point, and this will adjust your overall color for the image.
If you have an image that has a color cast and you'd like to get rid of it you can try the gray eyedropper. The trick is to find a 50% gray in your image -- try clicking a few different places to see what happens. Sometimes this is the absolute easiest (and best) way to color correct, but it won't always work (you may not have a 50% gray or even something close in your image). It's worth a try, but only after you've adjusted your levels (and exited the levels dialog) -- you can always undo the damage.
If you are much too advanced for levels you can adjust your image through the use of curves. Curves are similar to levels, but have as much in common to levels as levels do to Brightness and Contrast. There isn't anything you can't do with curves that you can do with levels, but the reverse isn't true. Once you've mastered curves you don't need to read anything that I'd write here about Photoshop.
My favorite adjustment technique, one that I haven't shared before now, is simplicity itself. It works best with a pressure sensitive graphics tablet, although it can be done with a mouse (but if you are into editing with Photoshop at any other than a very casual level, you're going to want a graphics tablet. For around $100 for the excellent Wacom Graphire, there's no reason not to have one).
For this trick you apply a new layer from the Layer menu, and set the mode of this layer to Soft Light. If you have a graphics tablet set in Photoshop the brush dynamics of size and opacity to Stylus (see below) -- when you press on the brush you'll control with pinpoint accuracy the feathering of your brush.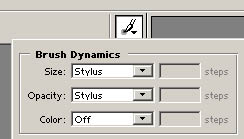 Now when you paint with white you'll burn your image , and black will dodge it, just like an old time darkroom. If you make a mistake you can use the erase to erase it. With a graphics tablet and this technique you can adjust a troublesome image in seconds.
Which of these do you use? Quite frankly, there are times it's best to use both. If your image is one that contains broad areas that need readjustment, a levels adjustment layer is probably best. If your image is more complicated, with many areas that need highlighting and lowlighting, the Soft Light will be the ticket. Master both and you'll be a Photoshop expert!
Note that the true beauty of both of these methods is that until you actually merge that top layer down, your image is fully intact. Indeed, it's often helpful to click the eye icon for that top layer on and off so you can see the difference in your image. Once you're satisfied you can merge the layers down (or save as a PSD, which will preserve the layer information).